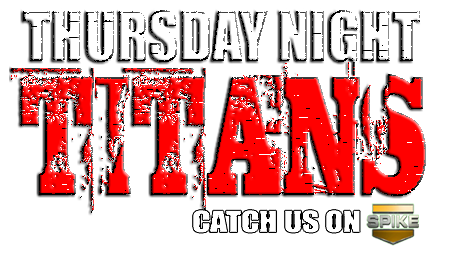 STRIKE FANTASY TOWERS
Thursday Night Titans™

Commentators: Randy White and John Cartwright
Date: July 12th, 2012
City and State/Country: Raleigh, North Carolina
Arena: RBC Center
Tour: "God Bless America" Tour
---
INTRO

RW: HELLO EVERYONE and welcome to Thursday Night Titans! We are LIVE in Raleigh, North Carolina. I'm Randy White.

JC: And i'm "The Weeknight Delight" John Cartwright. We got a short but sweet edition of Titans this week.

RW: Sweet indeed. We have Cole Hendricks making his SFT debut against Emerson Embry, Johnny Legend returning to action in a triple threat match with Dude Job and Andrew "Malinko" Johnson, and a champion versus champion match between Hardcore Champion Roger Storms and National Champion Saint Jude,

JC: And let's not forget our main event, Gary Mac makes his return to Titans when he faces Alexander Hayes in a submission match.

RW: Hayes will be looking for revenge on Gary for leaving him hanging two weeks back at UnNatural Selection, and I for one think they could steal the show.

~PERFECTION HAS ARRIVED~

(Appears on the tron and then the lights in the arena blackout, a green spotlight begins searching throughout the arena, the fans begin to boo. The spotlight goes faster and faster, the guitar rift can be heard, the spotlight gets even faster then the opening of "Tear Away" By Drowning Pool begins to blare out and the spotlight stops on the entrance way. The Lights stay out as the fans booing become louder.)

I'm tearing away Pieces are falling I can't seem to make them stay You run away Faster and faster you can't seem to get away Break

Hope there's a reason For questions unanswered I just don't see everything Yes I'm inside you Tell me how does it feel to feel like this Just like I do

(Gary Mac then walks out from the back dressed in a rather expensive blue suit. The fans boo as Mac Gary Mac smirks towards the fans and then begins to head towards the ring, walking past the fans and as he does he he spits on one while wiping his forehead and throwing the sweat onto the fans.)

I don't care about anyone else but me I don't care about anyone Do I really want this Sometimes I scare myself I just can't let it go Can you believe it Everything happens for reasons I just don't know I don't care about anyone else but me I don't care about anyone I don't care about anyone else but me I don't care about anyone or anything but me God damn I love me

I don't care about anyone else but me I don't care about anyone I don't care about anyone else but me I don't care about anyone or anything I don't care about anyone else but me I don't care about anyone

(Mac reaches the ring and steps up the ring steps. Gary turns around and poses for the fans, then he steps through the middle rope and into the ring. Mac then motions for a microphone and is handed it by the ring announcer he awaits his music stopping and then on the fans toning down the noise.)

Gary Mac: Tonight marks my grand return to SFT, Main Eventing Titans against Alexander Hayes.

The crowd cheer at the mention of Alexander Hayes.

Gary Mac: Fact is I have thought about it long and hard, thought about this match tonight and after much consideration I have decided that this match will not go ahead here tonight.

Once more the crowd erupt but this time booing the mention of the match.

JC: What the hell is he going on about?

RW: Is he just cancelling the Main Event?

Gary Mac: You see I know I can beat Alexander Hayes tonight or any given night for that matter, but for you people at home to get the privilege of seeing me live on my return it made me think. Why should you see someone as great as me for nothing? Now at the July Pay Per View where you have to Pay to view it, now that would be the perfect opportunity for me to show Alexander Hayes for what he really is so tonight I will not be in action.

Gary begins walking to the ropes to leave the ring but "Indigenous Holocaust" by Wahwahtay Beanis hits and out comes Alexander Hayes with a microphone in hand the crowd are erupting as he stands there staring a hole right through Gary Mac who smirks at him.

Alexander Hayes: Every time you show your face you have some ingenious way of getting out of the match, and I could see this coming, the fans could see this coming and everyone who knows you could see you pulling away from this match.

Hayes begins walking slowly towards the ring.

Alexander Hayes: Now tonight you will face me in the ring Mac even if I need to step into the ring right now and have that match, either way I will be kicking your ass all over this arena.

Gary Mac: Wow hold it right there Tonto, I said I will not wrestle on live television only on Pay Per View, the viewers need to pay to see me, where as someone like you they could see at any local high school gym for five dollars.

Alexander Hayes: Always with the insults but you retire more than anyone I know, you had a big retirement tour and then returned it would be nice for you to tell the public why you returned and why you think they should pay to see you.

Gary Mac: I do not need to justify myself to you...these fans or the moronic fat bastards at home.

The crowd boo Macs comments and then Hayes climbs the ring steps onto the apron before stepping into the ring.

Alexander Hayes: Well if you won't wrestle me tonight I guess I better take the opportunity to kick your ass right now.

Gary Mac: Now that would be assault Alex, you went to law school right, this would be an unprovoked attack on me and I could have you placed in jail.

A huge grin appears on his face.

Gary Mac: And we know what would happen if you went to jail Alex. The big guy in your cell would have a dice, he would tell you roll it and when you roll it if you get either a one, two, three, four or a five he would take your manly hood. And if you rolled a six we all know you would have to roll again. Either way you are fucked Hayes, literally and in a fight with me.

Alexander Hayes: Going to jail would be worth it to wipe that smile off your face.

Hayes drops the microphone the crowd erupt but then "Barney Theme Remixed" hits and Mr Fluffy steps out from the back.

Mr Fluffy: You make me sick Gary, I offered you a chance to come back and do what was right and you threw it all away and did what ever the hell you wanted, I should have expected it from you. You think you can just cancel a match and book matches on your say so and nothing will be done about it? I'll tell you what I will let each and every fan down tonight.

The fans show their disapproval as Mac applauds Mr Fluffy's actions.

Mr Fluffy: Tonight the match is cancelled but like you said at the Pay Per View you will step into the ring and it will be against Alexander Hayes. Only this time it will be in a street fight where anything goes, and Mac we will sign the contract next week.

Gary Mac: You can't do that, I didn't sign up for a street fight this isn't fair.

Mr Fluffy: Enjoy Gary because this is the last time you bully your way around my company, remember I co-own this company now and I have just as much power as Shadow.

Gary Mac: You son of a bitch, I'll buy you two big Macs if you cancel the street.

Before Mac can continue Hayes clotheslines him from behind Mac hits the mat hard Mac gets up but gets taken down with a Side Effect. Hayes is up and locks in Rain Dance, the crowd are on their feet cheering.

JC: Alexander Hayes with an unprovoked attack on Gary Mac I swear I hope Mac presses charges on him this was uncalled for.

RW: And the attack at the Pay Per View wasn't?

JC: That was in the spirit of the match.

RW: Well it looks like our Main Event is now cancelled.

The crowd are cheering as Hayes lets go of the figure four leg lock and stands up raising both hands in the air, he reaches down and picks up the microphone.

Alexander Hayes: Never turn your back on me after you screwed me Mac, I'll see you next week.

Hayes begins leaving to a huge "Hayes rules" chant from the fans Mac crawls over towards the ropes and uses them to get up he looks back at Hayes who smiles at him before heading to the back.
---
Match Number One


Singles Match

Emerson Embry vs. Cole Hendricks

RW: Right now we have Cole Hendricks taking on Emerson in what is Cole's first match in SFT how do you think he will fair against Emerson tonight?

JC: We have never seen Cole in action but from what we have been told he has the ability to give Emerson a great match.

RW: Well right now Cole Hendricks is in the middle of the ring waiting on Emerson.

Robyn: Our next match is scheduled for one fall, currently in the ring he weighs in at 255 pounds and hails from Atlanta Georgia, making his debut in SFT, COLE HENDRICKS!!! And his opponent making his way to the ring, he weighs in at 240 pounds he hails from Baytown Texas EMERSON EMBRY!!!!

The crowd erupt as The beer song hits and I make my way to the ring, throwing beers of cans to the fans as they chug them and smile and yell.

JC: Both men look happy to be in the middle of this ring, Emerson always gives it his all.

RW: And now it is time for them to start the match.

The bell rings and both men lock up in the middle of the ring, side headlock by Emerson Cole over powers him and pushes him off the ropes, Emerson comes back and rocks Cole with a shoulder block sending him to the ground. Cole hits the mat and rolls to his feet but is knocked back down by Emerson with a clothesline. Cole is pulled up and Emerson whips him into the corner and follows in with a body splash.

JC: Emerson starting this match with a lot of momentum he must want to show what he can do after last week.

RW: Emerson gave it his all last week and right now starting off strong.

Cole staggers out from the turnbuckle as Emerson picks him up and hits a spinning spine buster, Emerson quickly hooks the leg.

Barge: 1 . . .Cole with a shoulder up.

Emerson stands up pulling Cole with him Irish Whip off the ropes and a back body drop by Emerson, Cole slowly gets up Emerson scoops him up onto his shoulder and brings him down with a running powerslam. Emerson gets up comes off the ropes and hits a leg drop on Cole Hendricks then hooks the leg.

Barge: 1 . . . 2 . . . Cole gets the shoulder up.

JC: Emerson once again with a close fall he wants to win this match and you can tell.

RW: But to win he must get the decisive fall keep Cole down for three.

Emerson gets up brings Cole with him and signals for his Reverse Face neckbreaker, as he puts him in places Cole rams his fist into the ribs of Emerson then again Emerson releases the hold before Cole Hendricks grabs him and hits Dead End on Emerson and covers him.

Barge: 1 . . . 2 . . . 3!!!

Cole rolls out the ring and throws his hands up in the air.

RW: Cole Hendricks picks up an unlikely win here tonight.

JC: This could be one of the shocks of the month, Emerson upset once again and from nowhere.

Winner: Cole Hendricks via Pinfall
---
COMMERCIAL BREAK
---
A LITTLE FLUFF

We fade in on Mr. Fluffy as he is eating some cake in his office.

Mr. Fluffy: Oh my sweet lovely cake.

We see a guy walk into the room wearing street clothes and a black SFT hat. His face is obscured from the camera.

Mr. Fluffy: Didn't your mother ever teach you to kn...

The man turns his back to Fluffy and pulls on the mask of Ataxia. The red eyes and teeth tell us it's our World Champion. Before Fluffy can scream for security Ataxia rushes over and slams the cake into Fluffy's mouth.

Ataxia: Do yourself a favor and chew your food! I want you to know something. I don't blame you. I don't blame you at all. I want you to know that I really enjoy being hunted in my place of employment. You think you found your savior. Trent Steel will fuck you over for a Klondike bar you dumb son of a bitch! That's fine! I'm just going to have to make you realize just how dangerous I am...You tried to hurt me Fluffy. I'll forgive it just this once. Next week. You won't be so lucky!

Ataxia pulls out a rag and puts it over Fluffy's mouth. Fluffy is out after a few moments. He looks at the camera. He smiles. He holds out the rag. Ataxia: Does this smell like chloroform to you?

JC: Well that's gonna cost him a fine or two.

RW: It SHOULD cost him jail time!

JC: Should, would, could, but likely won't. Fluffy's not the kind to do paperwork.

RW: Ataxia continues to run rampant over SFT, but for now let's take you to our next match.
---
Match Number Two


Triple Threat Match

Dude Job vs. Andrew "TGM" Johnson
vs. Johnny Legend


RW: Well folks, we WERE going to have a triple threat match tonight, but unfortunately we're now being told that both Andrew Johnson and Johnny Legend were unable to make it to the arena in time, so that means Dude Job wins this match by forfeit.

JC: Not the best way to win, but a win nevertheless. It's a shame, I really wanted to see Legend again.

RW: Well from what I understand this match could be pushed forward to some point in the near future, so stay tuned folks!

JC: Yeah, I mean what are the odds of TWO delayed flights for the same match?

Winner: Dude Job via Forfeit
---
COMMERCIAL BREAK
---
ATAXIA VS. TRENT?
We fade in on the backstage area as the white faced "Trent Steel" masked Ataxia runs down the backstage hallway trying to escape before anyone can find him. He turns the corner and gets clocked in the face by a white cane. We see the white "Ataxia" standing over him.
"White Ataxia": What an ugly face you are wearing junior.
Ataxia: Yeah. Not even your mother loves it.
Ataxia sweeps the legs of "White Ataxia" and send him onto the ground. "White Ataxia" gets up and chases after Ataxia and grabs the back of Ataxia's face mask's wig. It comes off including the face as Ataxia ducks into a dark room. "White Ataxia" follows inside.
"White Ataxia": Come out! Come out! Whomever you are! Tell me..Do you feel naked without the mask?
Ataxia: Tell me. Do you sleep well at night knowing that I am better than you at being you?
"White Ataxia": Please junior. Even I'm not this cocky.
Ataxia: Whose cocky. I've lead you into a trap.
"White Ataxia": How?
We see the door to the room shut.
Ataxia: I brought night vision lenses for this reason. I'll try not to enjoy this.
We hear the sounds of scuffling and punches landed. Finally the door opens and we see Ataxia wearing his full mask now as he clicks on the light. On the ground, still masked, but handcuffed to a locker is "White Ataxia". In Ataxia's hand is the night vision goggles.
Ataxia: See you next week. Chump. So far I think its two to zero. My favor. Your move asshat! AHAHAHAAHAHAAHAHAAHAH!!!
Ataxia slams the door shut and bolts the cameraman focuses on "White Ataxia" who is just laughing as maniacally as Ataxia was!
---
THE MAIN EVENT

Champion vs. Champion Match
Roger Storms vs. Saint Jude
RW: It's now time for our NEW main event, given that Gary Mac kinda had Fluffy cancel the other one.
JC: Yeah, Gary tends to step to the beat of his own drum. But that shouldn't detract the fans from witnessing some great action as the rising star Roger Storms takes on Saint Jude. They're both champions, and we're going to see which champ stands on top!
The camera cuts to the ring.
Robyn Bryne: The following contest is scheduled for one fall and it is the Champion vs Champion match! All ready in the ring is SFT's Hardcore Champion...ROGER STORMS!!
RW: Why is he all ready in the ring?
JC: To keep him and Jude from fighting backstage and starting this match early!
Robyn Bryne: Introducing next. His opponent. He is the SFT National Champion and THE Number One Contender for the SFT World Heavyweight Championship...SAINT JUDE!!
"Ring of Fire" by Johnny Cash plays. Jude steps through the curtain and slowly makes his way down the ramp. He looks around at the fans with indifference. Jude walks up the steps and enters the ring. He takes off his ratty looking jacket and tosses it out of the ring. He then turns his direction towards the stage and awaits his opponent.
RW: Jude looks a little more down than usual.
JC: Someone didn't take his Prozac.
The two men lock up and get into a bit of a test of strength. Kick to the midsection from Storms followed up by a knee to the face sends the National Champion down to the mat in a heap. Storms quickly picks him up and irish whips him into the turnbuckle post sternum first. Storms rushes to attack Jude, but Jude side steps it and sends Storms shoulder first into the post. Jude grabs the back of Storms head and starts slamming it into the ring post. The crowd counts along! 1...2...3..4...5!! Jude lets Storms drop at this point. Jude leaps to the top rope and delivers a flying elbow to the sternum of Roger Storms! Here is the cover...
RW: This could be it!
JC: OH YEAHHHH!!!
1...No kickout by Storms!
RW: Well that classic move didn't work out to well.
JC: OH NOOOOO!!
RW:...
JC: Sorry...
Jude doesn't get discouraged as he grabs Storms up and starts punching him in the gut and then whips him into the ropes. He goes for a clothesline. Storms ducks. Rebound. Storms with flying elbow to the face of Jude! Legdrop the throat from Storms. Storms gets up and grabs Jude into a sleeper hold on the mat! The crowd equally split between the two champions start cheering at a fever pitch...
RW: Storms going for the sleeper!
JC: That move never works.
Storms converts the classic sleeper hold into the more deadly version that we see in UFC fights. The crowd is cheering for both men as the ref checks Jude to see if he's passing out. The arm goes down once. The arm goes down twice.
RW: Jude might be gone!
JC: What an upset...with a sleeper hold...Oh god. I'm back in nineteen ninety three...
Out of the crowd comes a guy wearing a Hoodie and a pair of shades. He leaps into the ring and smashes a pair of brass knucks into the face of Storms! He then grabs Saint Jude and decks him as well. The ref calls for the bell ruling this a double disqualification! The ref tries to get involved but gets clocked for his trouble! We see the man's face and its...pure white!
RW: Is that?
JC: No!
The white face is a latex mask of Trent Steel! The shades come off and the man grins. It's the red eyes and teeth of The World Champion! Ataxia is in the building!
Ataxia: DID YOU MISS ME!!!!!!
RW: The Messiah Pariah is here! And he just cost Storms and Jude their match!
JC: Oh God. He just spotted us!
Ataxia smiles at the two commentators as Storms gets up and rushes at him. Storms goes for a wild punch. Ataxia sidesteps and locks Storms into a German Suplex! "E.R. STAT!" Ataxia gets up and leaps to the top turnbuckle! "Peaceful Tolerence!" Security rushes the ring as Ataxia rolls out of it and runs towards the announcers. The two wise commentators duck.
RW: Ah!
JC: Jesus!
Ataxia: WOOOOOO!!
The crowd starts booing and throwing things into the ring as Ataxia tries to make it out through the crowd he gets hit by a few things and a few fans try to grab him but somehow he makes it into the crowd!
RW: That psychopath just cost us a great match!
JC: That psychopath is the World Champion and he just sent a message to his future opponent.
The camera cuts back to Jude who is finally coming around and scowling towards Ataxia's direction.
Winner: Nobody via Double Disqualification
---
OUTRO
RW: And that's our show for this week.
JC: Blink and you missed it!
RW: That tends to happen sometimes, partner. But in the weeks to come we'll have our pay per view event, plus the developing stories between Gary Mac, Alexander Hayes, Ataxia and Saint Jude continues.
JC: Sounds like a good time to me.
RW: Goodnight everybody. See you next week!
---



© 2001-2012 Thursday Night Titans™
All text, images and html code are property of Strike Fantasy Towers.
Un-Authorized distribution and duplication of the text, images and html code found within this show is strictly prohibited.
Thursday Night Titans™ and Strike Fantasy Towers used with permission, and are respected trademarks of themselves.
All Rights Reserved.

Back To Strike Fantasy Towers